Glucose Product Buyer's Guide (updated May 2023)
Dr. Whitaker's Berberine+ GlucoGold Review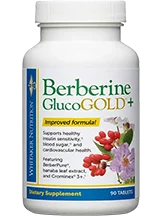 This doctor-formulated supplement has a lot going for it. With patented ingredients based on clinical studies, you might think this product has it all. Maybe it does – if you already have healthy blood sugar and just need some help maintaining that. In fact, it has even more than all of that. It even has additives like fillers and binders which can hinder the effectiveness of the main ingredients and even cause side effects.
This product has undergone a formula change which removed some of the additives, including those added for color. We like to see that they removed some of the harmful substances but Berberine+ GlucoGold still has some way to go. This company seems to care about the quality of what they produce enough to re-examine their products and make necessary adjustments. We hope they do that again soon. 
Is Berberine+ GlucoGold Effective?
In order to discern whether or not this supplement is effective, we must look at the ingredients in the formula. As previously mentioned, this product has a short list of active ingredients.
The first ingredient on the label is 20 mg of Calcium, equal to 2% of your recommended daily value. This is a very small dosage and unlikely to provide many benefits. Studies have found that Calcium and Vitamin D supplementation together demonstrated positive long term effects on blood sugar levels in individuals with impaired fasting glucose. Vitamin D is essential to Calcium absorption. Including Vitamin D, which also helps regulate blood sugar, prevent heart disease, and maintain healthy bones, could only add to this supplement. Berberine+ GlucoGold could have been better if the Calcium dosage was higher and there was Vitamin D to support its absorption. 
The next ingredient is 133 mcg Chromium as the patented Crominex® 3+ chromium stabilized with Capros® Amla Extract and PrimaVie®, standardized Shilajit. In short, this is a patented ingredient made of other patented ingredients. While Chromium Picolinate is the form of Chromium that has mainly been studied, Chrominex® is still believed to improve insulin sensitivity and help the cells absorb glucose.
Next, it includes 500 mg Berberine HCL as BerberPure® per serving. At 3 servings a day, this brings the daily intake to 1,500 mg which is the recommended dosage for supporting fasting blood sugar levels and improving insulin sensitivity. Good job Berberine+ GlucoGold!
Berberine is followed by Cinnamon and Banaba extracts. As discussed, Cinnamon is a great ingredient for helping regulate blood sugar after meals and while fasting. Banaba is useful for increasing insulin sensitivity, blocking carb absorption, and boosting antioxidants. These are two of the ingredients that we deemed essential for a blood sugar supplement and we were pleased to see Dr. Whitaker's Berberine+ GlucoGold agrees. 
But there were some things we disagreed about. For example, the inactive ingredients include Magnesium Stearate which is a filler that can cause stomach discomfort and diarrhea. Several reviews of the older formula do report experiencing this side effect. Has the formula adjustment really addressed this issue?  
Is Dr. Whitaker's Berberine+ GlucoGold Safe?
In general, this product is marketed as natural and safe. There are no mentioned side effects. However, reviews of the older formula mentioned bowel discomfort which may still be a side effect of the newer formula.
The manufacturer claims to adhere to the FDA's Good Manufacturing Practices (GMP) standards. Each product is said to undergo triple testing to ensure quality.
As a general rule, it is always recommended to speak to your doctor before taking any new supplement, especially if you are pregnant, nursing, have any health conditions, or are taking other medications.
Summary
This product has few active ingredients though most of them are vital to blood sugar supplements and of high quality. We were disappointed that there was only a small amount of Calcium without the vitamin D to support it as has been clinically studied.  It doesn't have nutrients whose deficiencies are linked to blood sugar imbalance, nor does it have Gymnema which blocks sugar absorption and reduces the perception of sweetness to help reduce sugar-cravings. Furthermore, it doesn't contain ALA for lowering fasting glucose and reducing the risk of nerve damage caused by high blood sugar. This product aims for maintaining blood sugar that is already at healthy levels and may not significantly lower blood sugar levels. If you're looking for a blood sugar supplement, you likely need more support than this product offers.
If you do decide this is the one for you, we do caution that reviews for Healthy Directions (the manufacturer of this supplement) on Better Business Bureau (BBB) complain about mischarges from the subscribe & save options. This product does come with a 90-day satisfaction guarantee but it can be difficult to get in touch with customer service in order to cancel a subscription or request a refund.
What You'll Discover:
✓
Which blood sugar supplement is the BEST BUY and comes with a great GUARANTEE!
✓
Which formula and ingredients are the most EFFECTIVE and work the fastest?
✓
How to NOT get ripped off! BE AWARE of poor quality and cheap products.
Top 6 Items to Consider:
Ingredients
Cost Per Serving
Product's Testing Results
Company's Reputation
Consumer Reviews
Return Policy & Satisfaction Guarantee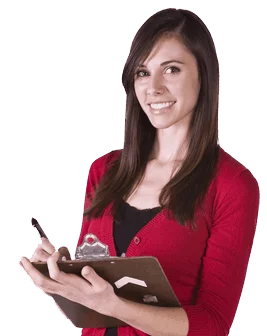 Sign Up For Our Newsletter!
We will send the latest and most relevant information regarding blood sugar straight to your inbox to keep you updated and informed.
Our promise: We will never share your contact details, unless you give us permission. And, we will only ever send you information that is helpful and significant.